This is being built by people who remember the way it was...who hold the memories of what our community used to be like. The information laid out here will be softened by time and influenced by personal experience. Facts and figures are nice of course....but what is most important is what is in the heart.
This is a call to anyone who vacationed here as a child or has lived enough time here to have seen changes- email your stories to
lpcainfo@lakepanamoka.net
, send some pictures. I would like to see this page change often. Thanks
This segment is excerpted by emails sent to us by Helen Eiler (nee Butler). I requested that she write some of her memories down and send them to us.

For the last 30 years she has lived in Troy, Michigan. Her sisters live in New Jersey, Texas and California so they have spread far from the Lake. I promised I would send a picture of the house.

Helen said, "Email is a great tool when you live far from each other. I have looked on Google Map and our old house looks like it is in the same position - I am sure it has changed."

A lot has changed, but it seems much has stayed the same- read on....

From Helen: Here are two sets of pictures of our house and one of the lake that my oldest sister sent me. I could not separate them so you are getting us in the pictures. My youngest sister has found more pictures of the Lake and she will go through and try and find ones of the lake by itself.

(Site admin note -I think pictures of the people are great- after all, the lake may be the hub, but the community is made up of people!)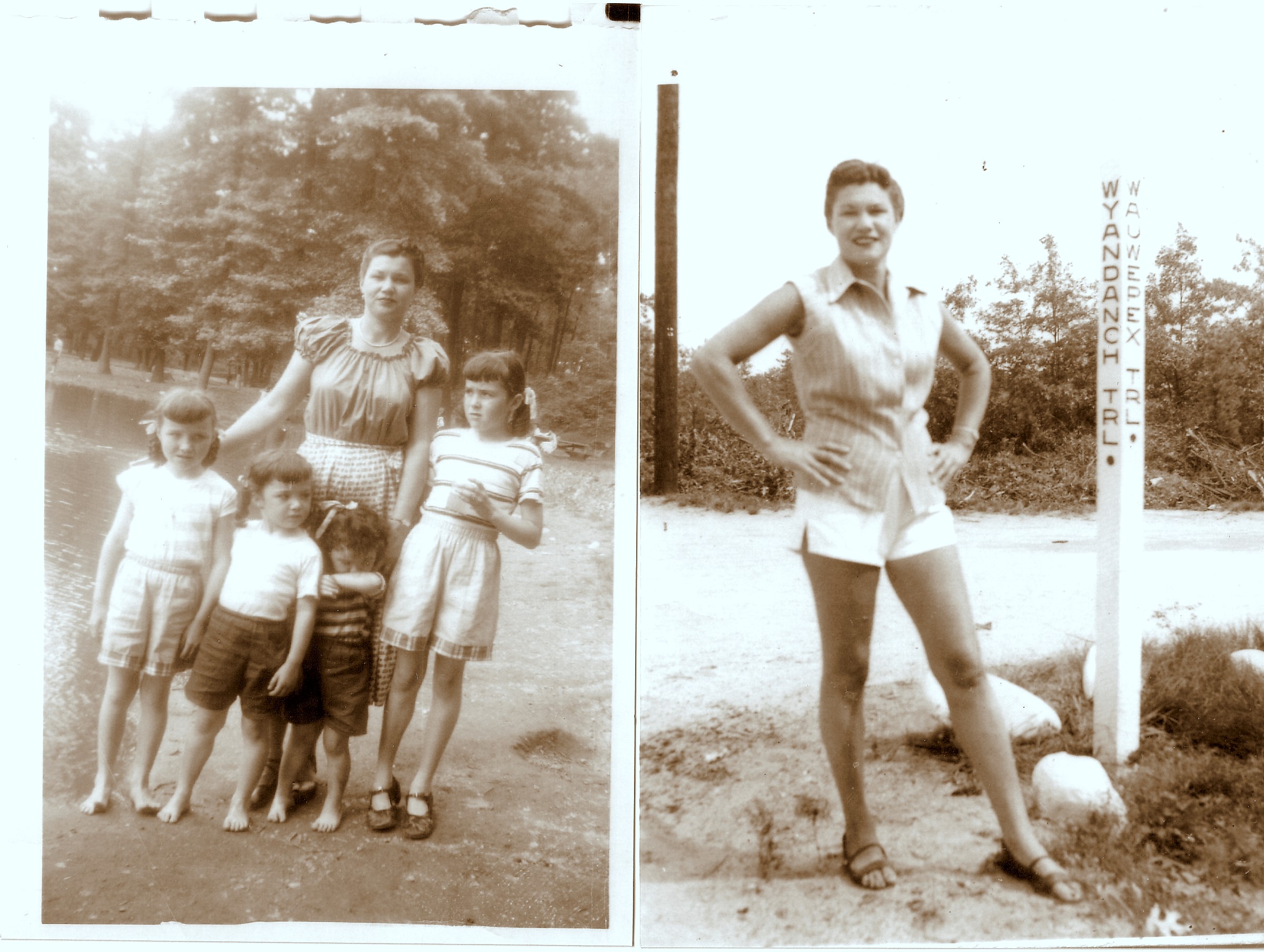 Our house was at the corner of Wyandanch and Wauwepex Trails. If you were on Wyandanch and then made another right on to Wauwepex you would be on the side of our old house heading back toward the Pavilion. We called it the 5 corners. Four corners had homes on them and the fifth - right across the street from the side of our house was a pointed lot that never was built on.
One thing is that we had movie nights at the Pavilion - then it was still open air. We all sat on blankets on the floor. I know you probably know we had movie night but did you know at a man, who owned a house by Beach Three, worked for Disney. I don't know his name. One summer we were treated to Old Yeller and Dumbo. How cool was that as a kid to watch a Disney Movie at the Pavilion!

We were a family of 6, Mom, Dad and four girls. We never locked our doors all summer and slept with all the windows open all summer. Never could do that today.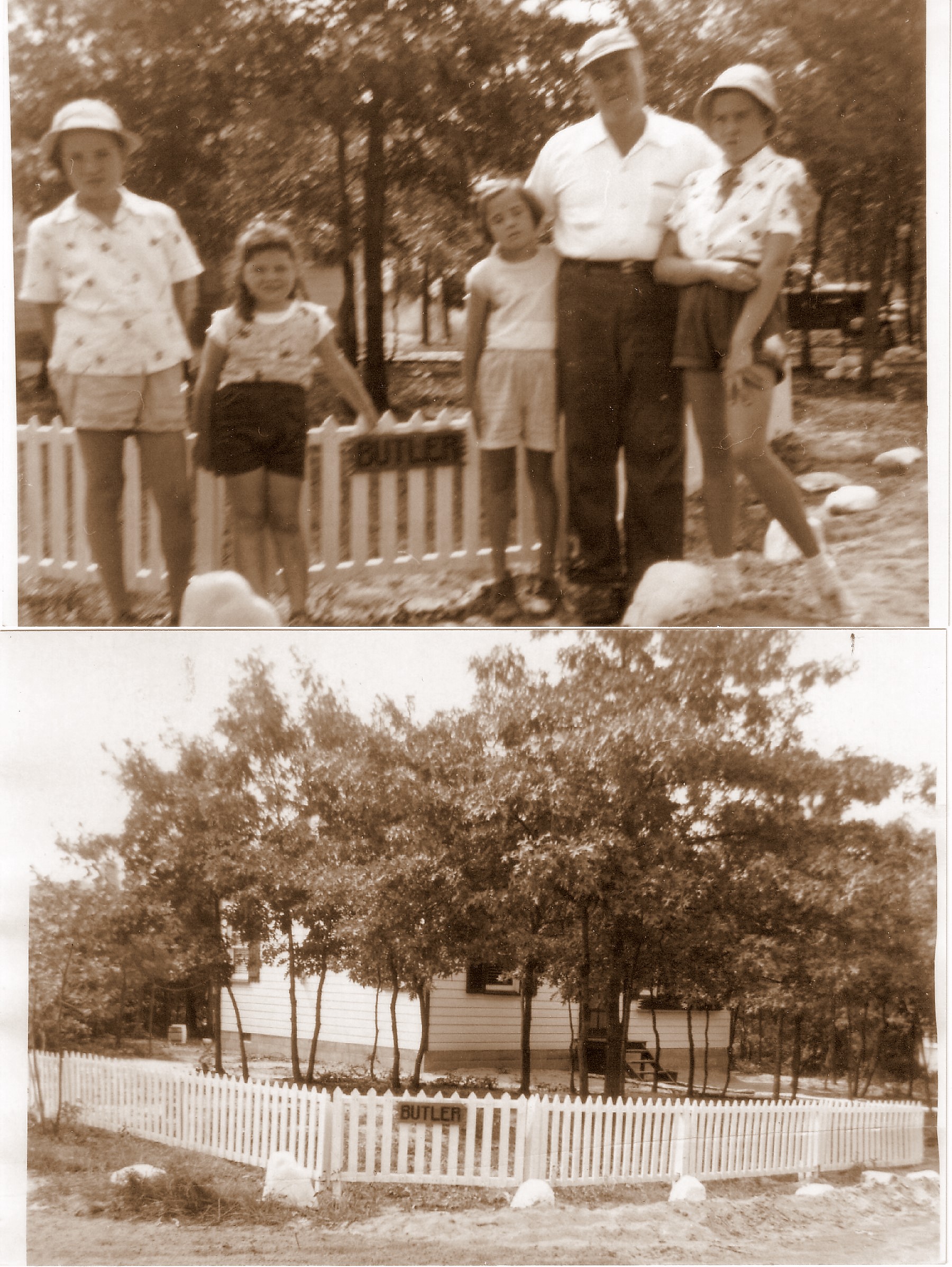 The Corey Pond was always known as the Frog Pond because of the crazy amounts of frogs (They we huge and you could hear the bull frogs at our house at night) you could catch there. Just on the other side of the Pond was a corn field and the farmer hated when the kids went into his field and picked corn.

I see you have swimming lessons at the lake now. We had to drive to Rocky Point and take ours in the freezing cold sound. Our mail came to the Wading River Post Office.

Does anyone remember the hurricane that blew through the Lake in the late 50's? Beach 2 and Beach 3 were separated by the lake washing over the road so you could not go drive around the lake for days. No electric and thank God one of our neighbors - Mildred Shaw still had a hand pump so we could have water. As the men were able to drive up to the Lake from their jobs they helped each neighbor seal their roofs etc. It was a very close community with lots of helping hands.
Helen has promised to send more- and there are others who have been in the community for many years that have promised to send some stories- so stay tuned for the next chapter!